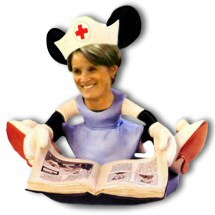 I attended
Barb Bancroft
's Pharmacology Update for Nurses conference today, and it was an absolute delight. I mean c'mon - few topics can get as dry as pharmacology, but she presented everything in such an entertaining way that it made the facts stick! Seriously. I learned so much today, and it was all applicable to my workplace (since working with the geriatric population - in a community setting, no less - makes for the largest plethora of drug encounters you've ever seen). I would definitely recommend Barb Bancroft's workshops for any nurse. If I could, I would have enrolled in her Diabetes Update and Lab Interpretation workshops as well, but that is more money than I'm willing to spend at the moment.
Speaking of money, workshops from Nursing Links are among the most affordable ones I've been able to find. And if you're aware of cheaper ones (in Canada, preferably in the Edmonton area), please let me know :)
Oh - I also bought Barb Bancroft's book, Live a Little, Laugh A Lot at the conference which she signed for me (yay - nerd). It's full of really entertaining facts and tidbits about the body, medicine, and well, everything. Just started reading it of course, but I'm really enjoying it so far! I'm looking forward to her new book, An Apple A Day.
I've also enrolled in the
Immunization Certificate
course so that I can get my Immunization Specialty as an LPN. At first I thought there wasn't much point in getting it since I was going to pursue my BN degree anyway, but then I realized that it will still be a number of years before that happens and in the meantime, I'd really like to be able to work to my fullest scope of practice (not that my workplace doesn't already have what could possibly be the largest scope of practice for LPNs in Alberta - nay, Canada). So I'm patiently waiting for my course materials to apply in the mail. I have 4 months to complete the course, which is perfect because I'll be done just in time for flu season :) Also, the chances of me being able to give immunizations at my workplace are significantly higher because as I said, I work in a community setting.
So hopefully this Immunization course will keep me well entertained, because I'm starting to get a wee bit bored...!
Upcoming courses for me include my Zumba Basics Level 1 Certification in April and Mental Health First Aid Certificate (gratis, courtesy of my workplace) in May. I. Love. Learning. Woohoo!